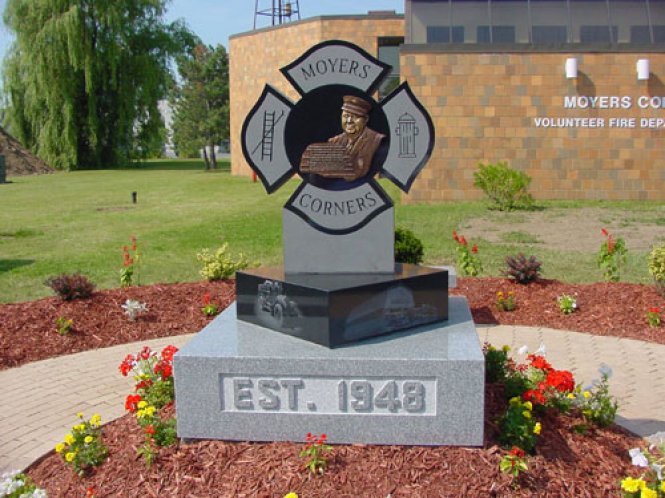 Funeral services were held July 14th, 2003 at Moyers Corners Station 1 for the late Ken Brand Sr. - "Chief." Members of the Moyers Corners Fire Department and other local departments joined Ken's family and friends. Services were conducted by Father Finnegan, with special readings from Ken's granddaughter - Michelle, President Greg Shaffer, Past Chief Chet Fritz, and Chief of Department Steve Bressette.
A full department procession was lead by Engine 11, used to carry the "Chief" to Pine Plains Cemetery on Henry Clay Blvd. Moyers Corners Ladder 1 and Truck 2 bridged the entrance to the cemetery with an American Flag. A "last call" was dispatched by Onondaga County Fire Control in honor of "The Chief." A catered reception was held immediately following the services at Moyers Corners Station 1. This gave the opportunity to reflect on the many accomplishments of Ken Brand Sr.
A special thanks goes out to everyone involved.
Eulogy by Past President and Captain Greg Shaffer
Good Morning Lucille, Barb, Kenny, Michelle, Jill, Whitney, Irene, Louise, and the rest of Ken's family, Lucille's family, Friends, and Brother Firefighters. Welcome to the house that Ken built. I want to talk about a man that wore a hat. Ken always wore a hat, and he wore it in his own special way. His first hat for community service was when he earned the rank of Eagle with the Boy Scouts at the age of 14. This is where he expanded his knowledge of character, leadership, citizenship, and other core values.
On Nov 9, 1947, Lyman Melvin's barn burned to the ground. Another hat was needed and Ken put on the hat of a volunteer firefighter. Ken put those skills he learned 17 years earlier to the test. This time he took off his hat and asked 40 men to give at least $25.00 each to buy a fire truck, and in less than 12 months, they had a truck and a station to put it in. This hat had to be passed several times in the earlier years to pay the bills. For this effort he earned the title of Chief of the Moyers Corners Fire Department. He wore that hat for 55 years. He was also a devoted man to his family. You could see the sparkle in his eyes when they were around and whenever he spoke about them. Under any hat that he wore, that sparkle and his smile made him glow.
I had the privilege of taking Uncle Ken to get his uniform. We got breakfast at the B-ville Diner and, then it was off to Syracuse Uniform. They created a uniform for a man that is one of a kind. It fit perfectly. It took Lucille and I a lot of convincing for him to get a new one. He felt that the money should be spent on something else, not him. Then it came time to fit the hat. They put a big one on straight, Ken repositioned it and said that's fine. They put a smaller one on straight, he tipped it and again said it was fine. They straightened it again and he cocked it a third time and in his stern way said it is fine. His uniform was now complete.
Uncle Ken your hat, the sparkle in your eye and your smile will never be forgotten. I will end with a quote from Albert Schweitzer that to me sums up Ken's life:
"You must give sometime to your fellowman. Even if it's a little thing, do something for others - something for which you get no pay but the privilege of doing it."
So long, Chief
Gregory Shaffer
President
Moyers Corners Fire Department
Eulogy by Past Chief Chet Fritz
Today we gather to celebrate the life of Chief Ken Brand Sr.- not his passing. He was an exceptional man who gave his all to protect the citizens of his community from the ravages of fire. Chief Brand's generosity knew no bounds. When the fire department was born, he, along with the other charter members, reached deep into their pockets and paid the heating bills for the "old fire barn", as it was known in the late 1940's and beyond.
He also made sure the rigs were fueled and repaired. This was done at Brand's Truck Stop. Let there be no mistake, he lost a lot more money than he made from the fire department on this, another of his good works. While we are on the topic of money-Ken had one pants pocket for fire department donations and the other contained his personal funds. From time to time he would count the fire department money and if he felt it was not enough, he transfers funds from the other pocket!
The money and "sweat equity" that he and the other charter members contributed to building the original fire station has not been forgotten, but possibly many of our newer members are not aware of their sacrifices. Ken loved dogs. I remembered "Brownie" along with other of his dogs riding as the"chiefs aide" to many a fire. My suspicion is that his dogs could run a fire as well as most fire chiefs.
On the fire ground he was a taskmaster and safety conscious chief who did not want his men injured. At one fire, the late Phil Guinta - a rather large individual by any standard - failed to wear his helmet. Chief Brand went over, jammed it on his head, and the only reason it didn't go to his shoulders was because his ears blocked it. Three fire fighters had to pry it off. Ken also gave two sons to the fire department - the late Philly Brand, and Kenny Jr. What a foundation he has provided us with!
From the burning of Lyman Melvin's barn, when we had no fire department, to four stations with land for a fifth, twenty-some pieces of rolling stock, to over a million dollar yearly budget and a Class III ISO rating. Chief Ken Brand Sr. - you left a rock solid foundation and a legacy which will never fade. Your shoes will never be filled. Today you walk with God.
Hale and farewell Chief Brand. Rest In Peace.
Chet Fritz/Past Chief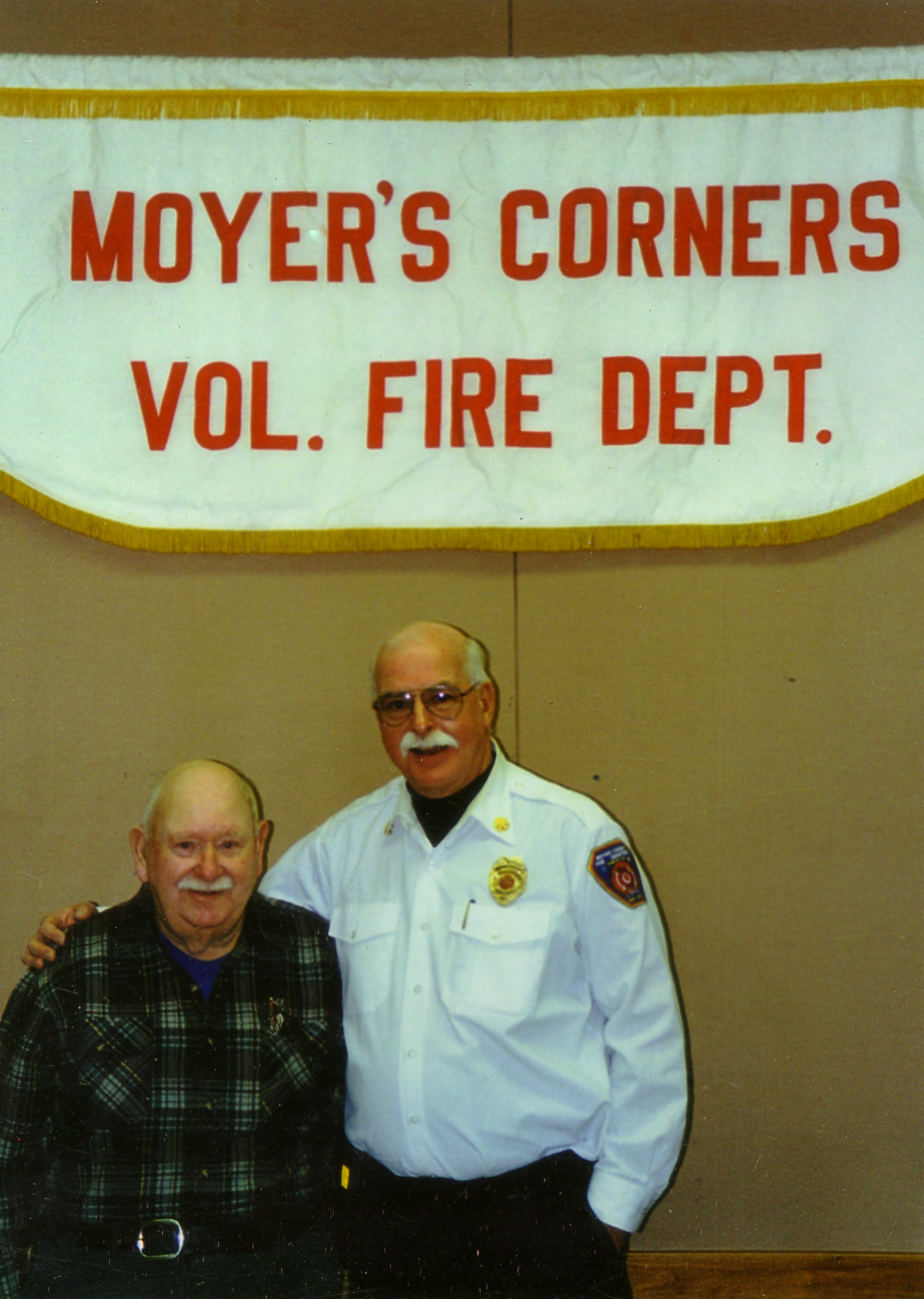 Eulogy by Bob Michelson, Past President and Past Captain
A vast emptiness has stricken the hearts of all Moyers Corners Firefighters, past and present, with the passing of Chief Ken Brand Sr.
While the profound efforts of 'The Chief' in starting what has become one of the largest, busiest, and well-trained all-volunteer fire departments in the state are quite well documented in department history, the other side of Ken Brand is not voiced as often. While it takes a man of great determination to initiate a grassroots effort to develop an entity such as Moyers Corners Fire Department, there was a side of Ken Brand that made him the heart of Moyers Corners. The Chief was a man who cared deeply for others, while downplaying his own importance. Ken was a friend to every member of this department, and tried to know everything he could about each member, just in case the time arose when that member needed help or encouragement. He was, for many, 'Father Brand', there whenever you needed him and when you least expected him, with a quiet word of support, a pat on the shoulder, a smile, or a knowing wink of his eye.
Ken instilled compassion, pride in a job well done, and the desire to do what was right in each member just by his presence... a mystical aura if you will. His drive and dedication was felt and multiplied by his sons, Phil, who rose to be President of the department until his untimely death, and Ken Jr., who was a Deputy Chief for many years until his family took precedence. Any member who sat and talked with Ken was the better for it. A quiet, unassuming tower of strength of the human condition. It never ceased to amaze that Ken would remember every little detail of the personality and psyche of every firefighter he talked to, just so he could interact with and support that firefighter in an individual way.
Moyers Corners has lost more that its' founding father and first chief, it has lost a large part of its' heart and soul, a loss that will never be replaced, a loss that will take a great effort to overcome. We will miss Ken Brand deeply, 'The Chief' and father.
By the way, God, if you are listening, if there isn't a fire department in heaven, you'd best be lining up apparatus and turnout gear because Ken Brand will be starting one! And God, take care of our Chief.